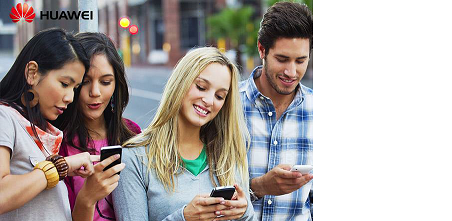 About Huawei
Huawei is a leading global information and communications technology (ICT) solutions provider. Driven by a commitment to sound operations, ongoing innovation, and open collaboration, we have established a competitive ICT portfolio of end-to-end solutions in telecom and enterprise networks, devices, and cloud technology and services. Our ICT solutions, products, and services are used in more than 170 countries and regions, serving over one-third of the world's population.
uawei is committed to enabling the future information society, and building a Better Connected World.
We invest over 10% of our annual sales revenue into R&D and more than 45% of ouremployees engage in R&D. Leveraging our experience and expertise in the ICT sector, we help bridge the digital divide and promote high-quality broadband connectivity for all. As an advocate of socioeconomic sustainability, we make every effort to support secure and stable network operations, and help customers and industries improve efficiency to drive low-carbon economic growth. By localizing our operations and building a global value chain, we help local innovators maximize their global value and share win-win outcomes.
Anywhere you are, Huawei is there.
Join us for Building a Better Connected World.
The IT Service Desk Specialist will provide first and second line technical support. The successful candidate will require an aptitude for working with applications/systems to undertake analysis, diagnosis and resolution of Incidents, Service Requests, which may range from straightforward to more complicated technical issues. There is also a range of administration duties within this role.
What will the future employee do:
Act as a single point of contact for phone calls, tickets from staff regarding IT issues and queries;
1st and 2nd line support - troubleshooting of IT related Incidents from in-house software to hardware, such as Laptops, PCs and Printers, mobile phones;
Resolve incidents based on 2nd/3rd line of support (including vendors) coordination;
Handle end user service requests from reception until closure;
Escalate unresolved calls to the relevant Resolver Group;
Take ownership of user Incidents and follow up the status of Incidents on behalf of the user and communicate progress in a timely manner;
Maintain a high degree of customer service for all support queries and adhere to all service management principles;
Provide stats for the weekly Service Desk report on call trends;
Publish support documentation to assist staff with requests for information;
Create user accounts, reset passwords, create groups etc.
Experience with Microsoft Exchange Server management;
Arrange for external technical support where Incidents cannot be resolved in house;
Maintain an Asset Database and track changes;
Support the Problem Management process by providing input for problem tickets, based on occurred incidents;
Supports the Configuration Management process by updating CMDB based on incidents;
Support the Change Management process by controlling final execution of all Planned Changes to minimize service disruption.
Report on relevant KPI's in relationship to the agreed levels.
nbsp;
What should the candidate have:
Language: Fluent English and German are required
Other:
Highly analytical and structured
Think across boundaries
Team player, highly organised and self-management