FSM Expert for CES - TSR
Karrierestufe
Mittlere Stufe (2-5 Jahre)
Gesprochene Sprachen
Englisch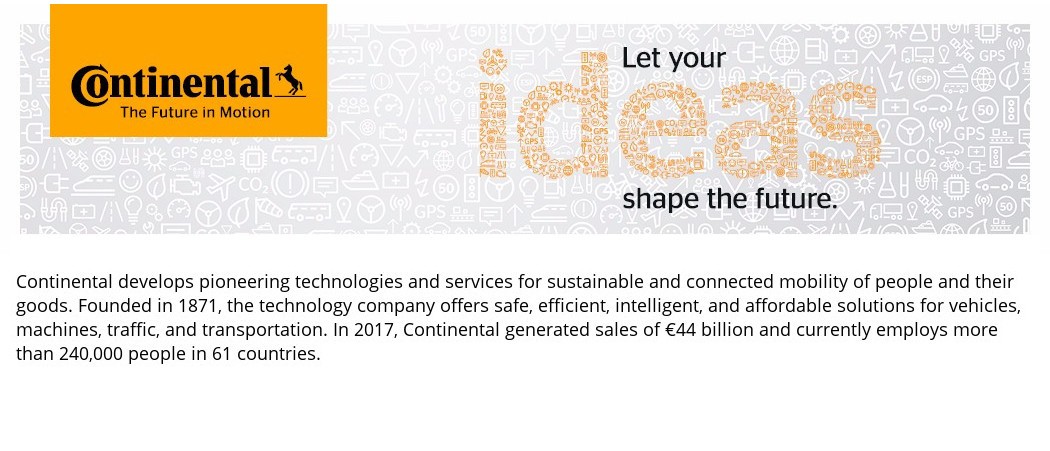 FSM Expert for CES - TSR
With sales of €44 billion in, Continental is among the leading automotive suppliers worldwide and currently employs more thaemployees in 61 countries. The Chassis & Safety division develops and produces integrated active and passive driving safety technologies as well as products that support vehicle dynamics. The product portfolio ranges from electronic and hydraulic brake and chassis control systems to sensors, advanced driver assistance systems, airbag electronics and sensorics as well as electronic air suspension systems all the way to windscreen washer systems and headlight cleaning nozzles. The focus lies on a high level of system competence and the networking of individual components. Thus products and system functions are developed along the SensePlanAct chain of effects. They form the foundation for automated driving. Chassis & Safety employs more thaeople worldwide and generated sales of approxi mately € billion in 2017.
Job Description
* Definition of functional safety processes, methods, templates and trainings based on standards (. ISand the state of the art in automotive development
* Communication and coordination of security-relevant topics internally and externally (with customers)
* Conduction of hazard analyzes and risk assessments
* Implementation of impact analyzes in projects
* Creation of functional and technical safety concepts
* Moderation and conduction of reviews and functional safety assessments for insuring the FSM requirements in projects
* Analyzes and evaluation of development results related to FSM requirements
* Coaching of development teams
* FSM presentation internally and externally (customers / suppliers)
Job Requirements
* Degree in electrical engineering or similar
* Several years of professional experience in the field of electronics development
* Functional safety knowledge (. ISO, IEC
* Experience in the embedded automotive environment is desirable
* Expertise in system engineering is desirable
* Experience in FMEA, FMEDA and FTA is an advantage
* Experience in using development tools (Doors, CM tools, etc.)
* Very good English skills
* Ability to work independently as well as in a team
What we offer
* Integration Program in a professional, young & dynamic team;
* Competitive Salaries (based on performance) & Benefits;
* Health & Wellness (Private Health and Dental Insurance, Sport activities etc.);
* Professional Development Opportunities (in Technical and Managerial Area);
* Stability;
* International Work Environment & Traveling Opportunities;
* Relocation Package for non-Timisoara residents.
* Flexibility Program including flexible hours, mobile work and sabbaticals.
Ready to drive with Continental? Take the first step and fill in the online application.