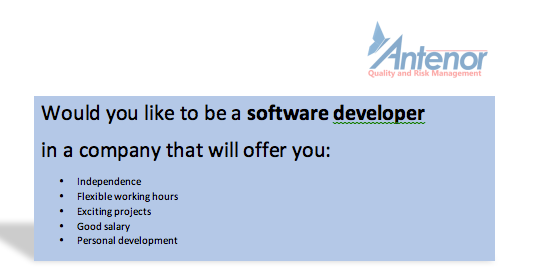 Antenors goal is to create the best Business Management Software in the world. Obviously, we need the best software developers to do so, and we hope you will help us to create a great company locally here in Constanta. We will aim to be the best workplace in town: This may include great flexibility, challenging and interesting projects and a good salary.
Antenor Management System shall always be ahead of our competitors. Meaning, we will need the sharpest and most creative brains to continuously improve the software. This is as such a never-ending process. So, we need you who are in it for the long run.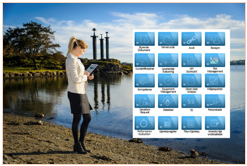 We are expanding, and many new customers means a lot of new requirements.
Combine this with a rapidly changing technology,
and we will need more highly motivated developers.
About your job:
In Antenor, you will work full time as a front-end developer on our Antenor Management System (AMS) application. The application is developed with Ruby on Rails(back-end), AngularJS (front-end) and PostgreSQL (database) technologies. You will be in daily contact with colleagues in Norway using e-mail, Skype and other means of communication. It is important that you read, write and speak English.
Our software developers will need:
Degree in Computer Science or similar.
Middle UI Developer with 1 year experience and preferably some experience in Angular JS
Proficiency with JavaScript, AngularJS, async native calls and HTML5
Validating user actions on the client side and providing responsive feedback
Knowledge of working with git
Personal skills:
You are hands on, passionate, persistent, creative, humble, and you get things done
Good communication and interpersonal skills
Very good analytical and problem-solving abilities
If you are also experienced in user experience (UX) design, that would be a bonus. The same goes for knowledge of database and/or PostgreSQL development and Ruby/ruby on Rails knowledge.
Responsibilities / Examples of a work day:
Ensure high performance on mobile and desktop
Write tested, idiomatic, and documented JavaScript, HTML and CSS
Coordinating the work-flow between the back-end developer and yourself
Cooperating with the back-end developer in the process of building the RESTful API
Communicating with external web services
Creating self-contained, reusable, and testable modules and components
Ensuring a clear dependency chain, regarding the application logic as well as the file- and database system
Writing non-blocking code, and resorting to advanced techniques
Creating custom, general use modules and components which extend the elements and modules of core AngularJS
About Antenor:
Antenor, established in, is a company with a headquarter in Stavanger, Norway and software developers in Constanta, Romania. Our goal is simply to create the best Business Management Software in the world. Strategy is Norway first, then think globally. Already we have some 80 satisfied clients and we are continuously growing.